Views
The woods looked like a place that had been forgotten. It used to be quiet and serene, and never impressed too many people. They walked by, saw it but didn't really look into it. I once interviewed some classmates on how they thought of this woods. Some said it was deep; some said it was scary; others had no ideas at all. For me, it was quite absorbing, just like the mysterious woods in the fairy tales, providing a timeless stage for magical and beautiful stories to take place. Therefore, I came up with a plan, to draw people's attention to this woods.
Wrap the trees at the height of 1.25 to 1.85 m (about the range of human's horizontal views) with soft and translucent veils, to affect viewers' senses. As their eye focus moves up and down, they will adopt different angles to observe the woods. In the meantime, the special quality of the material, combined with the exterior ambience, will trigger visitors' sense of touching and hearing as well. Here, the feelings of sounds, scenes and touches exchange and intertwine, and their connection cause senses to interchange. When that all happens, there's no doubt every audience would inherit new perceptions and fresh experiences.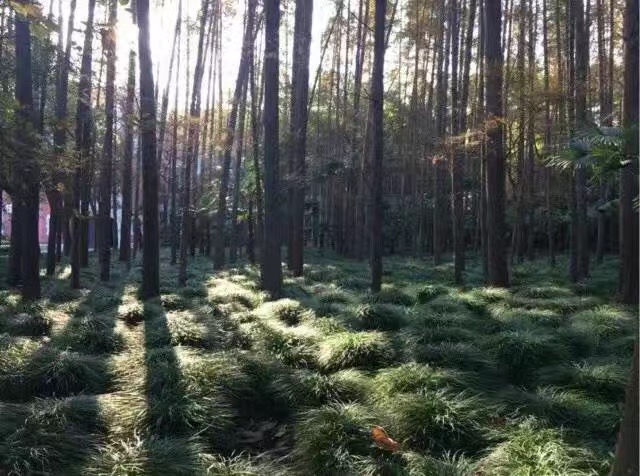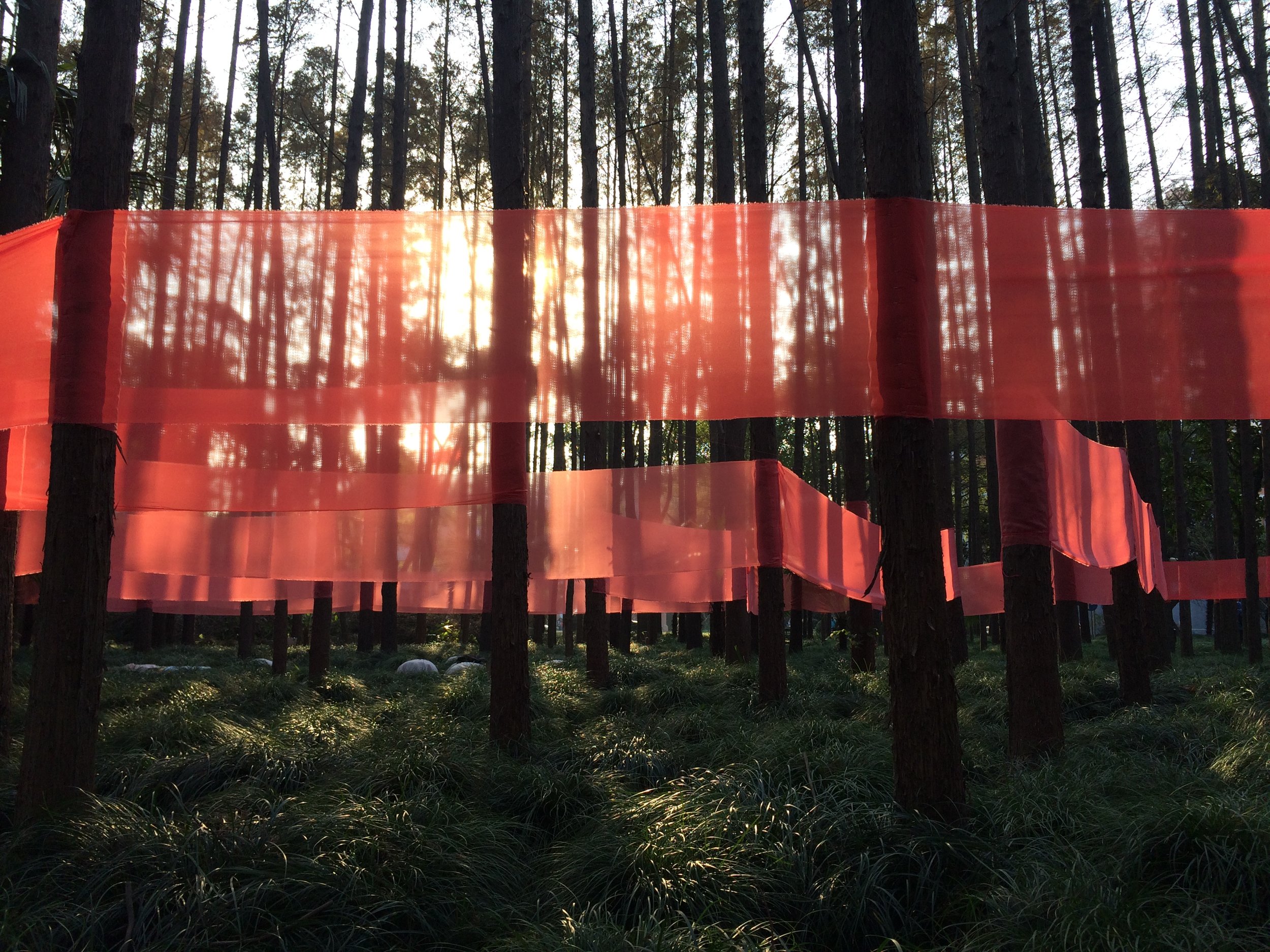 Veils, 2015,Ye LIU, USST University, Shanghai
ABOUT COLOUR
Previously known as Hujiang University, our school was a registered Christian university, and during wartime occupied by the Japanese troops. Meanwhile, it provided shelters for numerous patriots and religious people. A bomb shelter was built right here inside of the woods, offering protection to both people and food. Considering about this, I choose red as the main tones of my work. and finally it involves four colours: Nude Pink, Pink, Rose Red, Orange, represents body, my personal identity — female, warmness and hope.
In combination with light, views creates a labyrinth of light and shadow which was a big push for the project. It engaged people in a way that when they went through, they could not only observe, but also become a part of it. Actually, it is also a real labyrinth, It was formed by translucent veils and silky threads, fixed by trees and paved by grass. To give strollers more comforts for their walk, I cleared all the fallen branches, garbage, and deliberately avoided tree bulks when I designed the routes. It consists of a few different routes, joined by several dead ends. There were two entrances with only one exit. People could certainly try different ways to get in and get out. In the midst of the display, the project was disturbed by wind blowing away the veils and people who snitched them. From the very start, the work has received wide attentions. Some said it looked like a movie shooting spot; some related it to politics, as the red cloth wrapped on trees reminded them of the "red soldiers"; some thought of it as a ritual of exorcist; some purely suspected that it was a memorial to the sacrificed people during the war before they got rid of the bomb shelter. What impressed me most was, a foreign friend mentioned that these colors made him think of the "Buddha".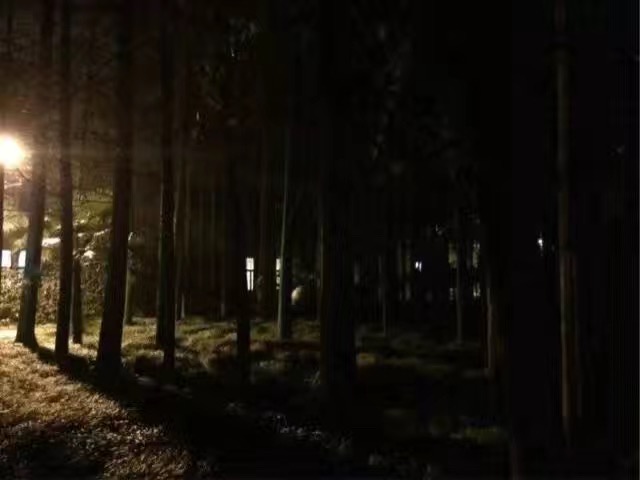 The wood is really dark at night and no one would pay attention on it.
After finishing the 'views'
People discovered the beauty of it and our university installed light in it.